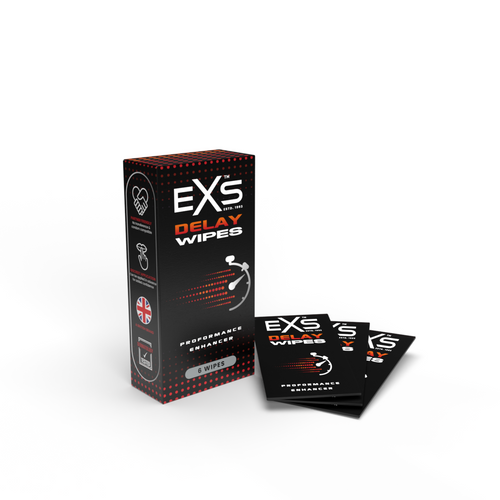 Premature ejaculation It is not just a part of 'getting old', but in fact it's an issue in the bedroom for many young guys too. The effects can be devastating, leaving you feeling embarrassed and insecure. This knocks your confidence which inevitably impacts on your sexual performance the next time you and your partner are intimate – it's a vicious cycle that can really damage your relationship.
EXS Delay Wipes work as a mild desensitiser, to slow down stimulation and in turn allow delay ejaculation. The wipes are individually wrapped to stay fresh for when you need them. The delay wipes are discreet and easy to apply anywhere, at any time.
Studies have provided evidence that delay products like EXS Delay Wipes can really help, revealing that among lifelong sufferers, the duration of intercourse could be prolonged from less than 40 seconds to almost 4 minutes.
EXS Wipes come in discreet packaging and easy to use application. Simply use the palm of your hand to rub the wipe over your penis before intercourse. No mess, no fuss and the individually wrapped delay wipes are perfect to keep in a drawer or take travelling when you need them.
Pack size: 6 individually wrapped delay wipes
Ingredients:
Ethyl Alcohol

Clove Oil

Mono Propylene Glycol

Glycerin

Citric Acid

Propyl Hydroxybenzoate

Methyl Hydroxybenzoate

Deionized water